Students are admitted on a rolling basis at the Birch School. We are currently interviewing students for 16-17 and we are scheduling visitation days.
Please call for more information and to schedule a visit. (845) 645-7772
Acceptance is determined by a number of factors: the family's fit with the educational philosophy, the student's capacity for self-direction, and openings in that particular age group. We are currently accepting applications from students in grades 2 – 5,  Middle School and High School.
The ideal Birch School student is an inquisitive learner, who is able to think creatively and be adaptable.


We are looking for students…
who want to be part of a kind, caring community
who want to look forward to school each day
who want to have a say in their own education
who want to work at their own pace
who have ideas and want to work on them
who want to learn how to communicate and collaborate
Our interview process includes a full day visit, followed by a week-long trial visit.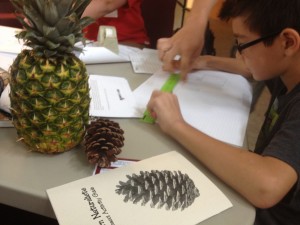 PROSPECTIVE STUDENT
APPLICATION CHECKLIST
1. Attend a school tour or scheduled Open House or Parent Information Meeting.
• Contact the Director at (845) 645-7772 to find out when the next scheduled tour is or to set up a private tour. we offer a regular tour on Wednesdays at 10am. Please call us to confirm.
2. Submit the APPLICATION FOR ADMISSION, Parent and Student Questionnaire, along with a $40 application fee,
and arrange for a half or full-day visit for your student.
3. Following the  successful student visit  we schedule a week long trial period and the family pays a deposit. If the student is accepted following the trial period the deposit is applied to the total tuition. If the student is not enrolling after the trial period the deposit is forfeited and covers the cost of the trial period.
(A Visitors Emergency Information Form must be filled out and left with the office before students can visit unaccompanied by a parent or guardian.)
4. After a successful trial, the school meets with the family to discuss formal enrollment.
5. After receipt of an enrollment contract, return your signed contract with tuition deposit or payment.
6. If you wish to pay your school tuition in regular installments rather than in one lump sum, register and create an account at TADs, our tuition management system.
The Birch School admits children and students of any race, color, national and ethnic origin to all the rights, privileges, programs, and activities generally accorded or made available to children and students at or through the organization. The Birch School does not discriminate on the basis of race, color, national and ethnic origin in the administration of educational policies, admissions policies, scholarship and loan programs, and athletic and other organization-administered programs.
Health & Emergency Contacts Form
PLEASE NOTE: Financial Aid available.



We believe that the cost of an independent, alternative education should never be the deciding factor for families wanting to send their child to The Birch School. We are dedicated to the youth of the community, and believe that The Birch School experience should be available to anyone who truly wants to learn in this way. Therefore, we are doing all we can to make this opportunity available to every family through indexed tuition and scholarships.