Enhance your family's homeschool experience.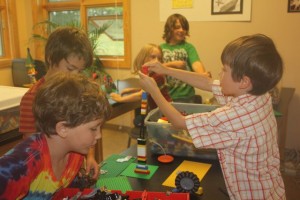 Would you like to homeschool, but aren't sure where to begin?
Do you think homeschooling might be for your family, but need help deciding on curriculum?
Do you worry that your homeschooled student doesn't see other kids often enough?
Do you work and want to homeschool, but can't be home with your student all the time?
The Birch School's Homeschool Resource Center can assist you with all aspects of your homeschool journey. We specialize in helping families who are new to homeschooling, or who are just beginning to consider an alternative learning situation for their students.
We can also help veteran homeschoolers liven up their yearly plans with new curriculum ideas, parent seminars on homeschooling issues and techniques, and social opportunities for students.
Allow us to help your family develop a customized educational program that meets your child's learning style, educational needs, and learning level. We can help develop the right combination for your child by partnering student home learning with a part-time program two or three days per week at our center. Students have opportunities to develop skills of group work, such as communication and collaboration. Specific subject areas are targeted and supported by class participation.
Curriculum resources, planning, suggestions are available. Certified teachers are on hand for consultation and evaluation.
Our experienced educators and certified teachers will provide assistance with required homeschool paperwork.
The resource center houses multiple curriculum catalogs, sample curriculum resources that allow you to try before you buy, on-line resources, curriculum and lessons for review, homeschool philosophy resources, and homeschool to college materials. Some supplies and equipment are available to borrow for home use, such as microscopes, science kits, balance scales, educational board games, educational CDs and tapes to supplement and liven up home learning.
Our center staff have an extensive network of educational professionals to call on in special cases. Specialists in Reading and Literacy, Autism, Gifted and Talented, Technology Education, History Education, Environmental Education, Elementary Education, Math and Living Math Education, Montessori Education, Music Learning, are available to our staff for consultation and advisement.
Homeschool Support Services
o First free 15 minute consultation. Ongoing support $45 hour.
o $25 administration of yearly required Standardized Testing for Homeschool reporting. (parents pay test fee)
o Tutoring services from experienced teachers and instructors. $30 – $40 per hour depending on subject and instructor.
Homeschool Membership by Trimester $350
The Birch School will partner with you to help design, deliver and record a vibrant homeschooling plan, customized to your child, your lifestyle and your needs.
o Ongoing support for the trimester from the Birch School's certified teachers and staff. Curriculum and record-keeping consultation.
o Assistance with preparation of IHIP (Individualized Home Instruction Plan) and required quarterly reports. Up to four hours of in-person or telephone consultation during the quarter.
o One reading evaluation, including written report and consultation with evaluator.
o Ongoing teacher support with curriculum, resources, identifying and obtaining supplies and materials.
Option to obtain student accounts for Birch School's online adaptive learning programs.
o 10% Discount on tutoring services.
o 10% discount on Birch programs, Core and Choice days
o Free administration of yearly required Standardized Testing for Homeschool reporting. (parents pay test fee)
o Access to numerous curriculum resource catalogs and samples. "Try before you buy". Access to homeschool teaching library and resources, including teaching books, inspiration and philosophy.
o Access to and borrowing privileges for curriculum and materials such as microscopes, student balances, manipulatives. Ability to photocopy reproducible curriculum.
o Free access to select special events at The Birch School, including lectures, indoor park days, holiday events.