The 2019 – 2020 School year runs from September 12th to June 14th.
Our regular school hours are from 8:30am – 3:10pm.
We study "core" subjects of Science, Social Studies, English 3 days a week, with a rotating schedule of two 50 minute morning periods per week, and one longer afternoon period of 90 minutes.
We study Math every day for an hour from 8:50 – 9:50.  This includes individual and small group tutoring and lessons, textbook work, online math tools and games, math manipulatives and puzzles, board games, and real world applications.
We study "Choice" activities two days a week.  Options include art, music, drama, digital arts, cooking, outdoor skills, electronics, programming, engineering, languages (spanish or italian), philosophy, Shakespeare, TED Talks, creative writing, nature study, hand crafts, and more.
LEARNING LEVELS
We divide our learning groups according to learning level. Our primary program consists of Second Grade to approx. 4th/5th grade. Our middle school program consists of approx. 5th/6th grade and our high school program is for students grades 9th to 12th grade.
We frequently engage with research-based activities to wake-up and focus our brains and bodies. Programs such as Brain Gym, Smart Moves, Brainology, Yoga, Mindfulness, Ball-a-VisX and more are offered to get us ready for a productive day of learning, growing and challenging our minds.
Through the use of a weekly talking-stick circle students learn to repeat an ancient tradition of Native Americans, to listen to one another, express their ideas and experiences, ask questions, and develop relationships with all of the students and teachers in the learning community, regardless of age or grade.
PRIMARY PROGRAM
The primary program is focused on math and literacy. The classroom is designed to support and encourage early learning and discovery. The emphasis is on helping students discover joy in learning, get along with others, follow directions, express themselves, and learn to be part of a group. Learning to read and write, and learning basic computation skills are the priorities. Mornings are spent with classroom teachers in direct instruction, small group work, centers, and independent work. Time for independent reading and writing is provided daily. Outdoor time is offered frequently, usually three times a day.
Afternoons are spent building on morning work, and spending time together with the older students in the afternoon exploration classes. Hands-on projects and experiments are often the focus of afternoon work in classes such as Colonial Crafts and Games and Beginning Chemistry, Engineering, and Computer Programming.
SECONDARY PROGRAM – Middle and High School
The secondary program is for students who can read and who are ready to begin their path to becoming self-directed learners. Mornings are spent following the individual learning plan that is created at the start of the quarter by teachers, parents and students. Teachers and mentors work with students to meet their goals, offering tutoring and assistance when necessary. Secondary students also participate in group activities, discussions, projects, in math, science, current issues, and history. Group learning tools are used such as "Writers Workshop" and collaborative learning is invited through use of the S.O.L.E (self organized learning environment). Secondary students also pursue independent elective projects in areas such as art, fashion design, music, electronics, programming, archeology, cooking, and more. The secondary program also sets aside time for recording of work, portfolio development, self assessment and reflection.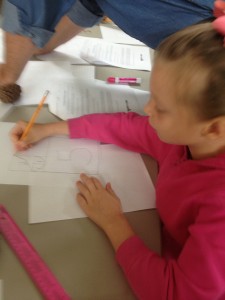 The first week of each nine to eleven week trimester is important to the development and program of the subsequent trimester.  During this period students are defining academic and social goals, and working with teachers, parents, and coaches to outline learning plans to meet those goals. Students create their learning plans, decide on their project management and recording tools, and gather the resources and materials necessary. Students are also investigating common interests and collaborative opportunities as they develop a team of students to work together on a group project for the trimester.
Students get to know each other and begin to develop the learning community by participating in team-building games and initiatives, working together with other students in small groups, and establishing patterns and expectations for the quarter.
We take a full hour for lunch and free time each day. We allow students to take frequent outdoor breaks and often are outside three times or more daily.
Private Individual piano lessons and guitar lessons are available during school hours.
var _gaq = _gaq || [];
_gaq.push(['_setAccount', 'UA-32423441-1']);
_gaq.push(['_trackPageview']);
(function() {
var ga = document.createElement('script'); ga.type = 'text/javascript'; ga.async = true;
ga.src = ('https:' == document.location.protocol ? 'https://ssl' : 'http://www') + '.google-analytics.com/ga.js';
var s = document.getElementsByTagName('script')[0]; s.parentNode.insertBefore(ga, s);
})();